Sungiva meets Konrad
My mother, Sungiva, and I set off for Cayuga Medical Center this morning to see Angelika and Konrad. Sungiva and my mother had to meet our new arrival!

Sungiva gives her little brother Konrad a kiss.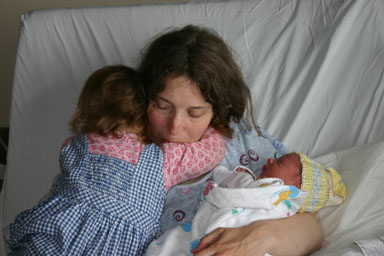 Angelika hugs Sungiva and Konrad.
If all goes well, Angelika and Konrad will be home tomorrow, and I'm sure there will be more exciting adventures.
Posted by simon at April 26, 2010 2:43 PM in Simons Life
Note on photos