County budget forum bleak
All three of Dryden's county legislators - Martha Robertson, Mike Lane, and Brian Robison - came to the Dryden Community Center Cafe with County Administrator Joe Mareane to talk about the county budget Thursday night. The crowd filled the cafe and kept growing over the course of the evening, and I was impressed that very few people left early.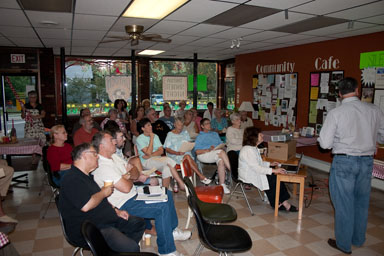 Filling the Cafe for a budget talk.
While town government has a lot of flexibility in what it can offer, county government seems to be about two-thirds an outpost of state government, with very little choice in what it can do. At the same time, many of the services we think of as core county services - road maintenance, sheriffs' road patrols, the library - are among the few things the county actually has the power to cut. (The county's assembled a complete list of programs (1.3 MB PDF), if you want to take a look.)
This year, the outlook is, well, awful. Pension costs, set by the state and largely driven by the falling financial markets, are skyrocketing. Unemployment for the county, though lower than many other places in the state, has climbed from 3.8% in June 2007 to 6.1% in June 2010. Food stamp cases have climbed 39% in the last two years. Healthcare costs continue to climb, though the formation of a countywide consortium will ease that slightly. Sales tax income is holding reasonably steady, but the total value of assessed property is slightly down.
Dealing with this is also complicated by the entanglement with the state. Mareane cited one case where the county might save some money - but at 35 cents on the dollar of services cut, because of state reimbursements. (Oh, and those reimbursements are often late.)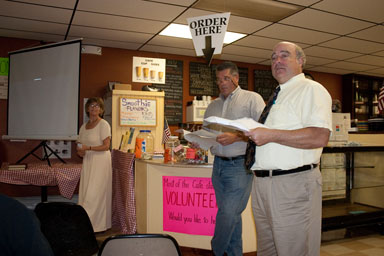 County legislators Martha Robertson, Brian Robison, and Mike Lane.
I think Dryden Daily KAZ sums up the politics of the conversation pretty well. There was a crowd of people there to push for youth programs, especially programs supported by the Dryden and Groton Youth Commissions, and there was a different crowd there to push against government generally, taxes in particular.
Legislators clearly have a difficult job ahead of them.
Posted by simon at September 4, 2010 6:33 AM in politics (local) , public finance
Note on photos