Light flooding in Robertson's Corners
It's changed from rain to snow now, but it was a pretty exciting morning of waterfalls and mud.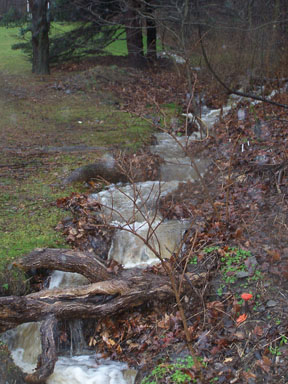 Waterfalls between my house and the neighbor.
Fortunately, the foundation and drainage work from last year seems to be holding up well.
I went exploring the neighborhood a bit, pointing the camera up the hill where the water was coming down and checking out my swales, as well as the local ditches and waterfalls.
Update: and now it looks like this:
Posted by simon at December 1, 2010 12:18 PM in Robertson's Corners , my house , weather
Note on photos