ZBA meets for six minutes, defers action on Varna II
Driving to Town Hall took longer than the meeting did. After Henry Slater, Dryden's retiring Zoning Officer, thanked the Zoning Board of Appeals and they thanked him (with applause from the crowd), Attorney Kristin Gutenberger asked the ZBA not to take action on Lucente Development's Varna II appeal while she requested additional information for the SEQR environmental review and did legal research.
Board members agreed, noting that they had had more mail on this issue - more than thirty letters - than on anything they'd seen before, and that there were more people in the room than previously too.
The people in the room pretty much told the story, as somehow they sat mostly by side. On the west side of the audience were Steve Lucente, Larry Fabbroni (the project engineer), and Fabbroni's son. The east side of the audience had almost everyone else, about fifteen people.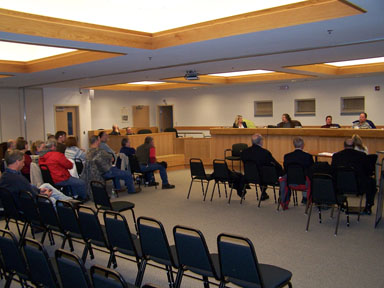 ZBA meeting from Lucente side of the room.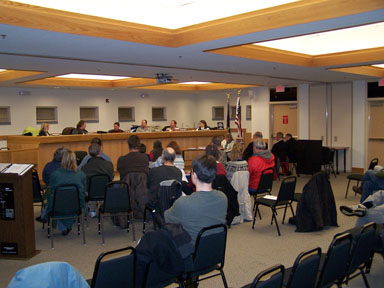 ZBA meeting from the other side of the room.
The ZBA will consider the appeal January 11th, 2011, at 7:30pm.
Posted by simon at December 7, 2010 8:31 PM in Varna , Varna II , planning and zoning
Note on photos