Bridge closed at German Cross Road
I drove around a lot of Dryden today, but only had time to explore the Fall Creek watershed. I missed something important in the southwest corner of the town - the German Cross Road bridge is closed.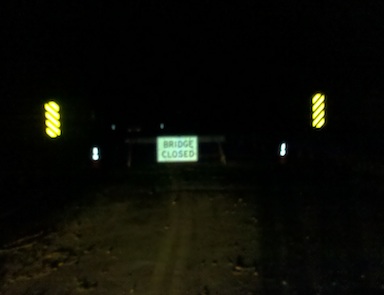 Bridge closed - German Cross Road.
The bridge crosses Six Mile Creek between Route 79 and Coddington Road. The road is open for local traffic, but the bridge is closed. Burns Road or Brooktondale Road are possible alternates. I didn't get to explore them, but haven't seen them on lists of closings. Then again, I hadn't heard about German Cross until recently.
Posted by simon at September 8, 2011 10:56 PM in roads, traffic, and transit , weather
Note on photos