Exploring Parke-Dabes Natural Area
I dropped our car off at Varna Auto Service for inspection this morning, and set out on a walk home by a different route. I walked up Route 366 to the driveway across from 1176 Dryden Road, and then turned south - and up - into the woods.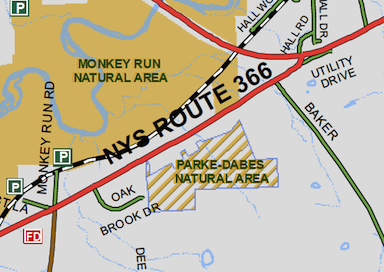 Finding the Parke-Dabes Natural Area. (Click for Official Town of Dryden Map (1.5MB PDF)).
There aren't any signs here (though I think I stayed in the boundaries), but this is the Parke-Dabes Natural Area, more than 50 acres of land owned by the Town of Dryden. The entryway is fairly open, though there isn't any parking. This was the entrance to a set of logging roads. There are signs of logging throughout the woods, and the old roads make convenient trails, but it's still a pleasantly quiet escape from Route 366 below. (It gets quieter as you go up.)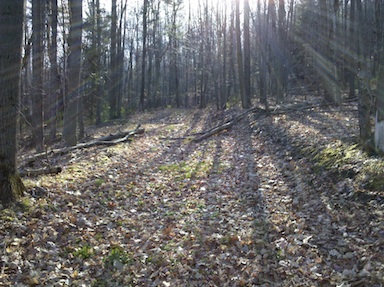 Old roadway going up the hill.
I pretty much went up and up and up the roads, coming down for an occasional picture. (Sorry - these are all cellphone pictures, so not great.) There's a stream through the middle of the preserve with steep banks, but it's easy to cross higher up the hill where the road crosses it.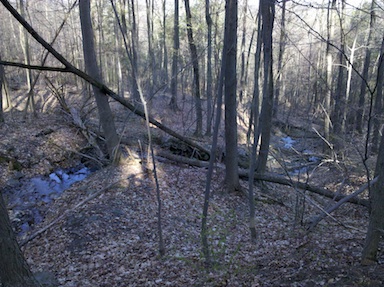 Stream near the top of the area.
The woods are mostly younger hardwoods, with a few pines mixed in and some older probably pasture trees still sprawling. There wasn't very much undergrowth, especially compared to my land just to the east, which makes me wonder if deer have demolished it. Birds and squirrels seemed to be having fun, and you can see to the airport through the trees in spots this time of year.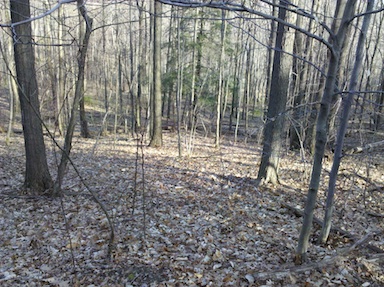 A typical look downhill through the woods.
I'm not sure what the Town's plans are for this place. I suspect the neighbors below would like it to stay pretty quiet, but it's a nice fit with the Cornell Plantations Monkey Run Natural Area across the highway. I've heard occasional rumors of a parking area to come, though it's been a while.
If you have a chance and a place to park, it's definitely worth a hike, maybe combined with a hike through the Plantations land. For me, walking the logging roads up and up pretty much took me to the corner of my property and I went down that steep slope, but it probably makes more sense for visitors to plan to wander through the area and come out the same way they went in. Going up the road for a way should get you away from the houses along the road, and it's nicely quieter up there anyway.
If you'd prefer to explore photographically, I've posted a gallery of pictures from this morning.
Posted by simon at April 13, 2012 11:13 AM in Varna , natural areas , recreation , trails
Note on photos