Hollenbeck's Spring Classic Road Race
I spent yesterday morning in Virgil as a corner marshal on the Hollenbeck's Spring Classic Road Race, helping point bicyclists toward their last hill climb and the finish line. (I was volunteering for the Ellis Hollow Preschool - it's not something I normally do.) It's run by the Finger Lakes Cycling Club.
It was great to connect with neighbors Glen and Marcia Swan during the swirl of registration, but I spent most of the time at the intersection of Route 392 and Van Donsel Road.
I'd never seen a large bicycle race before, and it was somewhat different than I'd expected. Riders were crowded at the start, but spread out - some - over the course of the race.
One rider in the first group got off to a major head start and seemed to keep it, pushing the pace car for the group well ahead of the main body of cyclists. Some cyclists stayed in groups, while others moved alone.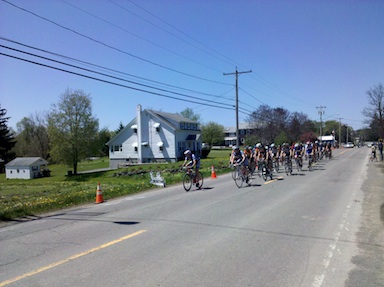 The last big group of cyclists approaches the final hill-climb to the finish.
Racers faced a 22-mile course over Route 392, Parker Street, Clarks Corners Road, Route 221, Babcock Hollow Road, and Owego Hill Road. Some races did one lap, while others did two and the most grueling race did three.
I've posted a gallery of photos if you'd like to see more. (And apologies again - these are all cell phone photos.)
Posted by simon at May 7, 2012 7:31 AM in bicycling , excursions
Note on photos