West Dryden Road Church
I drove by the West Dryden Road Methodist Epispocal Church yesterday and took a picture of this historic landmark: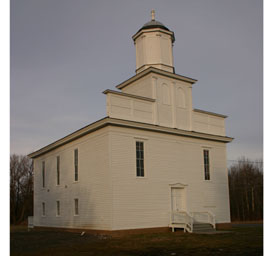 West Dryden Methodist Episcopal Church (map).
George Goodrich writes of the founding of this church:
The first Methodist society in the town of Dryden was organized at West Dryden in 1811 by Rev. Geo. W. Densmore. The members of the first class were Samuel Fox and wife, David Case and wife, Selden Andrus and wife, and one other whose name is not known. Densmore was succeeded by Revs. James Kelsey, Isaac Puffer, John Kimberlin, and other old time circuit riders. Meetings were held at the houses of members of the class and other places until about 1815, when a large building was erected on the corner where the blacksmith shop now stands. This was used for both church and school purposes for a few years and was the only church here until the present edifice, constituting with its white dome one of the most prominent and familiar landmarks of the township, was built in 1832 by Peter Conover at a cost of twenty-two hundred dollars. It has sittings for three hundred people. (123)
It hasn't been a church for a while, however. The Town Board minutes for June 4, 2003 include a resolution that notes:
WHEREAS, the property was acquired by the Town of Dryden from Central New York Annual Conference of the Methodist Church by deed dated October 25, 1948, and recorded in the Tompkins County Clerk's Office on November 8, 1948, in Book 315 of Deeds at page 229, reference also being made to a boundary line agreement by and between Brian O. Earle and Joann Earle and the Town of Dryden recorded in Book 733 of Deeds at page 161, and
WHEREAS, by deed dated April 14, 1970, and recorded in said Clerk's Office on May 28, 1970, in Book 487 of Deeds at page 145, the property was conveyed by the Town to Greater West Dryden Rural Community Association, Inc., and
...
WHEREAS, the Greater West Dryden Rural Community Association, Inc. is the same entity as Greater West Dryden Rural Community Cooperative, Inc., which was incorporated pursuant to Article 2 of the Cooperative Corporations Law on May 14, 1967, and
WHEREAS, the Greater West Dryden Rural Community Cooperative, Inc. was dissolved by proclamation of the New York Secretary of State on June 27, 1988, and
WHEREAS, upon such dissolution, title to the property revested in the Town of Dryden
In 1996, Dryden conveyed the property to Historic Ithaca, who report that they "also owned the 1832 Methodist-Episcopal West Dryden Church for several years, maintained the structure and recently found a suitable buyer."
From the town minutes, it looks like the buyer is Hobasco Lodge, #716, F. & A.M., a lodge of Free and Accepted Masons. The building is also a historic site on the National Register of Historic Places.
Posted by simon at January 2, 2004 10:51 AM in West Dryden , churches , history , photos
Note on photos