Hammond Hill block party
Wow. Ann Leonard knows how to throw a great party. Start with a few hours of shoveling mud in the rain, then head back to a camp area where barbecued chicken is waiting, people are playing music (including bagpipes), orienteering and history information is available, ornithologists are trying to capture birds, runners are getting ready, and riders on horseback come down the road. Put it at the end of the road, in a beautiful area surrounded by state forest.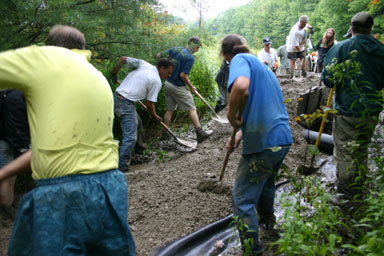 Repairing a trail on Hammond Hill.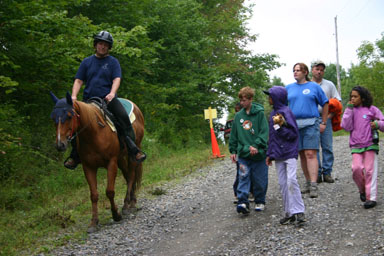 A horse on the seasonal use portion of Hammond Hill Road.
I arrived too late to shovel much gravel, and it's kind of tricky with a camera, but it was amazing to see a group of people come together to repair a trail like that. I liked seeing the Dryden Historical Society bring a display to the camp, kind of a "history where it happened", and the people from the Lab of Ornithology with the mist nets were very impressive, despite the birds choosing to stay away.
I've put up a full gallery of all my pictures for the day, including some blurry ones.
Posted by simon at August 21, 2004 4:50 PM in Hammond Hill , history , natural areas , photos , recreation , trails
Note on photos