Veterans Day observance
The Dryden Veterans Memorial Home held their Veterans Day observance at the Dryden Village Green today. A crowd of people turned out. It was hard to hear through the traffic, especially trucks, passing by, but the crowd stayed at attention.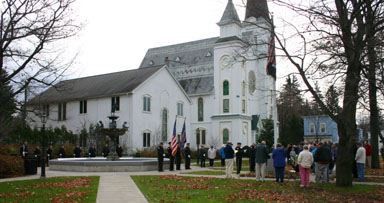 Veterans Day ceremony, Dryden Village Green.
The ceremony concluded with a bugler playing 'Taps' and the firing of a salute. I've posted a collection of photos if you'd like to see more of the ceremony.
Posted by simon at November 11, 2004 12:28 PM in photos , veterans
Note on photos