Town Board meeting conflicts
I was planning to spend this weekend catching up on a number of stories, but instead wound up resting (for the first time in too long), painting and fixing storm windows, and replacing my windshield wiper blades after a chunk of what appears to have been wet cornbread came flying across Route 13 by the airport. Fraternity prank?
Fortunately, the Dryden Courier seems to have covered two key stories, both of which took place at the September 15th Town Board meeting.
They lead with an article on Autoworks' plans to move some of their business from their existing shop in Varna to the nearly invisible former F&T Distributing building near my house. As the Courier reports, Greg and Karen Rushlow told the board that they are planning to do longer-term repairs on cars inside the building, with cars stored inside except for pickup and drop off.
I thought it was fine, and the owners of the orchid greenhouse under construction asked for a fence, but David Moore, who apparently just bought the former state trooper barracks for use as Stone Travel's new offices, was pretty annoyed. As the Courier puts it:
"My concern speaks to the idea that do we want to be moving an auto repair business to an area, a nicely designated area, that could have a potential impact on other people's development plans and property values."

He stressed that he has brought many tax dollars into the town, and expressed concerns that Autoworks would house numerous unregistered and unlicensed vehicles on its property, making it unattractive and lowering the property values of area properties.
Then he had his lawyer spend a few minutes doing his best to blur the lines in the zoning law between auto repair businesses and junkyards, something I found especially disturbing because his attorney is Randy Marcus, the Attorney for the Zoning Board of Appeals. I certainly hope he won't be blurring zoning law for the ZBA as well.
The Courier notes that Greg Rushlow disputed all of Moore's claims, and those claims certainly didn't reflect the plan they had just presented to the board. Next, someone objected to Moore's position:
"It sounds to me like you are saying that if this goes through, you are going to take your toys and go play elsehwere," the resident said. "And I don't think that's a very neighborly thing to do."
That resident was me. I didn't take kindly to Moore's comments, attitudes, or claims, and I suggest he take a closer look at the surrounding neighborhood before arguing that an auto repair shop would lower property values. He'd expressed himself with the one technique most guaranteed to annoy me: to promise to invest money in a project but if and only if the Town Board did exactly what he wanted them to. I was disgusted when Corning Incorporated (with the support of former Dryden Superintendent, then Corning Superintendent, Donald Trombley) said it would pay for new schools in Corning if and only if voters did what the company said they should, and I find Moore's attitude more of the same on a smaller scale.
Oh well. The board tabled that decision to the next board meeting, and eventually got to the issue I think more people had expected to be controversial: discussion of the Town's proposed Comprehensive Plan. The Courier covers this part of the meeting in a separate article, focusing on two resident complaints:
Eric Ludewig and the residents of Sunset West Circle are upset to find their neighborhood proposed as suburban residential with possible water and sewer coming. Not because they're opposed to development, but because the development has already happened, and they don't want the extra costs of water and sewer. He also said that no one there had heard of the plan. County Legislative candidate W. David Restey backed Ludewig up.

Kathleen McIsaac, who had served on the agriculture meeting and had been to Planning Board meetings regularly because of farm issues, spoke of her frustration in coming to the board again to oppose a trail through her property, something added at the end of the Planning Board's discussion.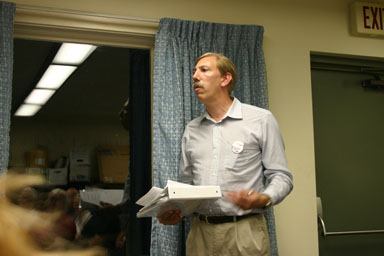 Sunset Circle West resident Eric Ludewig objects to parts of the comprehensive plan.
The Courier doesn't spend time on it, but Ken Miller also spoke in partial opposition to the agriculture section and requested that an agriculture committee continue its work. Zorika Henderson had Robin Hadlock Seeley's letter opposing trails, and specifically eminent domain for trails read into the minutes. A number of other people spoke in opposition to the trails, with eminent domain a common theme.
The Courier also discusses the Supervisor Steve Trumbull's frustration with people arriving at the very end of the process, despite major efforts along the (eight-year-long) way to advertise the plan, include the public in question and answer sessions and two public hearings. The board as a whole sounded impatient to vote the plan up or down, but postponed it until next month in the hopes of having Councilman Chris Michaels at the meeting as well.
At the end of the article there's a nice quick rundown of other developments including an approved permit for Applied Pulsed Power to move into the former Ithaca Produce building, a well-supported petition requesting a study on the feasibility of providing the Ellis Hollow area with water (which the Board seemed inclined to do, except for a legal issue with a contract to do it), and the town's approving a $98,000 addition to the highway barn which was supposed to be $92,000 before bids came in.
Back on the front page is good news about the success of the Dryden School District's efforts to raise fund for Hurricane Katrina victims. Response has been overwheleming, filling boxes that line the hallways. There's also an article on a hair-cut-a-thon held by Hair and More, a fundraiser which was also collecting donations for Hurricane Katrina.
A new "Kids Speak" section asks two Dryden 6th graders about their favorite fall activities, and it sounds like jumping in leaf piles is still popular.
In sports, there's a look at Dryden football raising $1000 for Katrina victims and also a preview of a girls swim meet between Dryden and Lansing.
Posted by simon at September 25, 2005 8:46 PM in Dryden Courier , planning and zoning , politics (local) , schools (Dryden) , trails , water and sewer
Note on photos