Cleaning up Hammond Hill trails
It was a perfect day for a hike, and a perfect day for a Hammond Hill trail fixup day. This one ran a little differently from last year, so I followed a crew around and took pictures of them, though there were at least five other crews out there.
Removing fallen trees and clearing brush were the main duties of the group I followed, with Michael Ludgate and his chainsaw leading the way.
On our return from a two-hour trek around Hammond Hill, we found the gravel crew finishing up repairs to the Yellow One trail.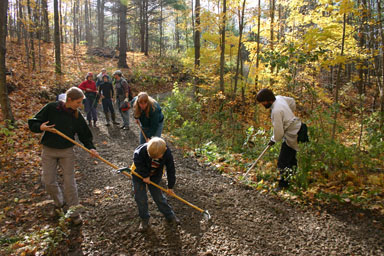 Raking fresh gravel to smooth out a trail.
I've posted a few more pictures, including some of snow, in a gallery.
Posted by simon at October 30, 2005 10:41 PM in Hammond Hill , trails
Note on photos