Injured kitten on 366
I dropped my car off at Varna Auto Service this morning, and Angelika and I were going to walk home with Sprocket. (Spring isn't feeling well.) We had walked up across the street from the Methodist Church when we noticed a little kitten lying in the grass. It seemed unafraid but not quite right, and when it opened its mouth there was a bit of blood.
I went back to Varna Auto Service to get the car, so we could help it, but when I returned, someone else familiar was there: Chris, husband of fellow Dryden blogger Beth, of Loxosceles. She came over a few moments later. He'd heard the kitten get hit and moved it out of the road to its current place, and called the SPCA.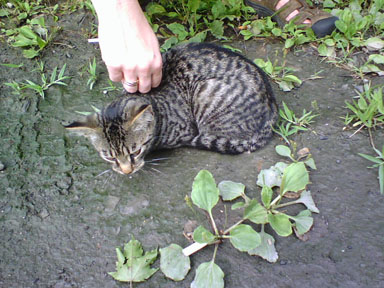 Angelika petting an injured kitten along 366 in Varna.
The SPCA minivan came by, full of animal carriers, and the woman collected the little kitten who was starting to move around a bit more. She took the kitten to the SPCA, but couldn't do anything about the other two kittens we'd seen while waiting.
Angelika called the SPCA later this afternoon, and the kitten was doing well so far. It seems like Chris helping it out of the road was critical, and the kitten will now have to heal.
I'd earlier heard a complaint that students had left behind a pregnant cat at the end of the school year, and the SPCA wasn't eager to take in the kittens. I don't know if this was one of those, or if the area just has a lot of kittens.
Posted by simon at August 8, 2007 9:02 PM in Varna , pets
Note on photos