Thin-skinned developers put my head in a box
A technicolor mailbox, at that, though it's only sort of "my head".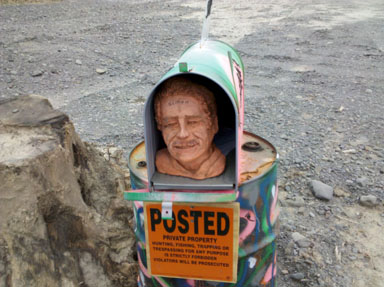 'Simon' inside the technicolor mailbox.
If it wasn't for the "SIMON" scrawled across the forehead, I wouldn't have guessed that was for me, as the resemblance isn't particularly close. However, Town Planner Dan Kwasnowski did tell me Wednesday night that he'd told the developers that the last thing he wanted to hear was more from me about an empty technicolor mailbox, so I'm reasonably certain who they meant.
I'd have thought that Nick Bellisario and Otis Phillips would have toughened up to criticism after years of making the heart of Varna look horrible, and the pretty much endless comments about "Mount Varna" in the hamlet. I guess not. Here's the full set of articles on this place so far - I can't say I'd have expected any of them to provoke this kind of response.
On the bright side, what's that paper back there?
Well, it's not the full Stormwater Pollution Prevention Plan (15.2MB PDF) I've have guessed would be in the box, but at least it's progress reports by the engineer working for the developers. That seems like a much better thing to put in a box.
Posted by simon at May 14, 2011 6:46 PM in Varna
Note on photos