Mount Varna gets a technicolor mailbox
First it was the teepee, and now this.
I thought I was hallucinating when I drove through Varna today, but no, this mailbox does seem to be real, though wild enough for three pictures: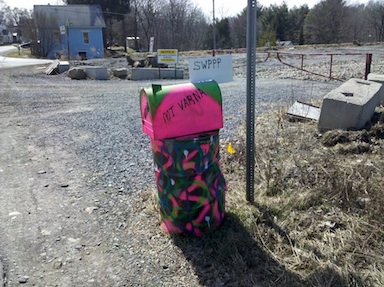 Mount Varna mailbox from the east.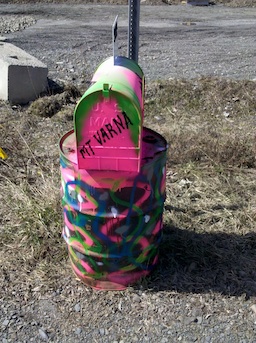 Mount Varna mailbox from the north.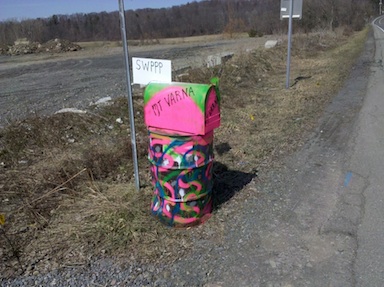 Mount Varna mailbox from the west.
I noted recent activity at Mount Varna, and put in a Freedom of Information Law request to find out more. I got back a large set of PDF files about the property's past and present. This one seems to be the key plan (3.4MB PDF), with more details here (1.7MB PDF).
The proposed 20-townhouse project in those is called the "Monkey Run Townhouse Project", which struck me as odd given that Monkey Run Road is about a half mile away. When I saw this, I wondered if it was some kind of weird protest. Now that I've realized that "SWPPP" likely stands for Stormwater Pollution Prevention Plan, I'm wondering if the developer's decided to show a sense of humor about the way the neighborhood's taken the handling of the property.
Update: It seems to be the latter. Town Supervisor Mary Ann Sumner reports that 'The Property Owner is in violation of his Storm Water Prevention Plan (SWPP) and is required to display the plan prominently onsite while remedying the violation. I guess the colors are his idea of "prominently."'
Posted by simon at April 9, 2011 8:26 PM in Varna , photos , planning and zoning
Note on photos