Nurseries and Greenhouses
They aren't exactly farms, but Dryden seems blessed with an abundance of nurseries and greenhouses. Driving along Dryden Road (Routes 366 and 13), you pass Saunders Greenhouse, The Orchid Place, Finger Lakes Fresh, and RPM Ecosystems. The Plantsmen up on 34B have a unique native plant focus. Besemer Hill Greenhouses uses wood for heat, and A New Leaf on 79 grows orchids and other unusual indoor plants.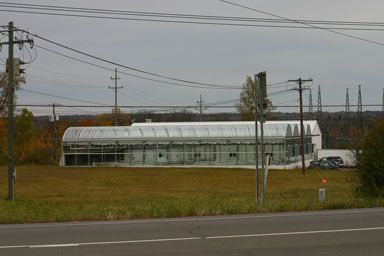 Finger Lakes Fresh grows hydoponic lettuce and more.
It's not clear to me how exactly Dryden wound up with a concentration of nurseries and greenhouses. The Orchid Place emerged from the ruins of the old Boxcar restaurant, and its greenhouse is amazing. Finger Lakes Fresh started out as a Cornell research project with support from NYSEG (PDF), and I think the NYSEG connection is why it's there. RPM Ecosystems arrived in part because the site met its needs, with abundant water from Virgil Creek. Henry Slater, the Dryden Code Enforcement Officer, apparently helped them find us, and the county also supported the venture.
I'm not sure what the Town could do to help its nurseries beyond general economic development work, but at the very least this is a story we should tell more often.
Articles in this series:
Posted by simon at October 22, 2009 12:45 PM in agriculture
Note on photos