Development on 366
When I moved here in 1999, the businesses between here and the Route 13/366 intersection were pretty quiet. The former Boxcar and State Police barracks were empty, I didn't even realize F & T Distributing were there (and they've moved since), and the Plantation Inn was quiet before its revival. Saunders Greenhouse, Treeforms, and the gas station were more visible.
The last few months have seen some definite growth. I reported earlier on the demolition of the Boxcar, and now an orchid greenhouse has gone up.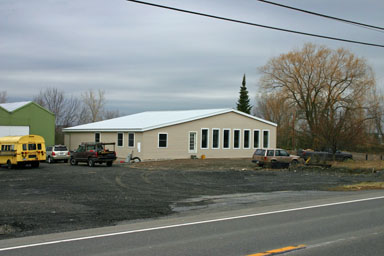 Orchid greenhouse at the former Boxcar.
I have a whole series of photos of the greenhouse itself going in and the remodeling of the former Loading Dock part of the Boxcar. I'll report again once they're formally open.
Next door, behind the greenhouse, Autoworks is remodeling the former F & T warehouse into a facility for heavier repair jobs. There was some controversy about their going in, but the Town Board approved their permit in October.
Stone Travel is also transforming the former State Police barracks, and they've done more work there since I took this photo.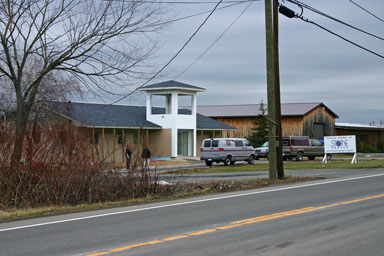 Stone Travel under construction.
They had their opening celebration a week ago, and are already operating.
Saunders Greenhouse is still a greenhouse, but they've also had a hobby store for a while and recently added nature photos and cards.
Hopefully something like this transformation will happen for the Village of Dryden's downtown, or even for the NYSEG building.
Posted by simon at February 4, 2006 10:16 AM in Route 13/366 , Varna , construction
Note on photos