Woodstove, Part IV, hearth
We took another big step toward the wood stove installation today with the laying of the hearth stone. This was complicated by the front door being right next to where is going, especially because we want to keep that door workable.
Making that possible required taking up part of the wooden floor, and inserting the stone neatly into a gap. I was very glad that Brian from Tile-Tec had come to take the measurements, because he was able to make everything line up with the existing floorboards. He and Jack came this morning to install the hearth, a big piece of Rainforest Brown stone. (Angelika loved it, especially when she realized it cost about the same or less than tile.)
(When I first looked at this house, there was a hearth stone in pretty much the same position. It was just resting on what is now, and should have been then, the sub-flooring. They had to cut through the flooring we'd put on top to reach the same position.)
One of the best things they did was build a much much lighter template to work from, letting them get the dimensions very very close to right before hauling the piece of stone into the house.
Of course, lugging the piece in was still a challenge, but it went well, especially with the help of a little cart that went underneath the stone.
The stone fit almost immediately, with just a few bit of trimming needed to make it all go.
The one minor headache isn't Tile-Tec's fault. It turns out that the bottom of the door is tilted, lowering at its outer corner and higher at the hinge. That pattern is reflected, once I looked carefully, in the threshold at the bottom, so trimming the door isn't attractive. It would let a lot of cold air in. We may fix this eventually, some day when we don't mind taking apart the door frame. For now, though, being able to open the door to 90 degrees seems fine.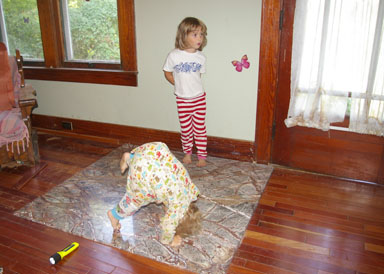 Sungiva and Konrad dance on the finished hearth.
As usual, I've posted a gallery of photos of the hearth installation.
Posted by simon at September 7, 2012 5:17 PM in my house
Note on photos